ATI 1DI404-SCI 5.7L HO Intercooled Tuner Kit with P-1SC-1
ATI 1DI404-SCI 5.7L HO Intercooled Tuner Kit with P-1SC-1
Please remember that the prices on our site are the Procharger Minimum Advertised Prices, Call 260 672-2076 
ATI 1DI404-SCI 5.7L HO Intercooled Tuner Kit with P-1SC-1 Bolt-On Over 160+ More Horsepower to your 5.7 HEMI Proven Intercooled ProCharger...
 Click on More Information link below
The Finer Details
Part Number: ATI 1DI404-SCI
Manufacturer: ATI ProCharger (Accessible Technologies Inc)
---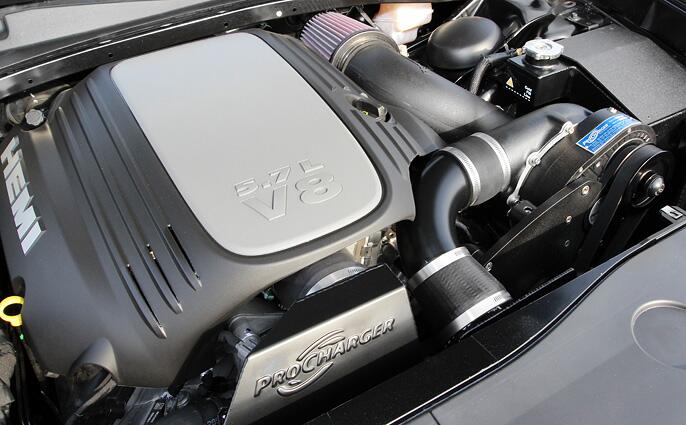 Send this to a friend
ATI 1DI404-SCI 5.7L HO Intercooled Tuner Kit with P-1SC-1
More Information

Please remember that the prices on our site are the Procharger Minimum Advertised Prices
Call 260 672-2076

ATI 1DI404-SCI 5.7L HO Intercooled Tuner Kit with P-1SC-1




 

 

Bolt-On Over 160+ More Horsepower to your 5.7 HEMI

Proven Intercooled ProCharger Systems and Tuner Kits are now shipping for 2017-11 5.7L Challengers and Chargers (and 5.7L Rams). This industry leading technology produces a gain of 160+ HP with a conservative 7 psi. For those wanting to purchase a tuner kit and have custom tuning performed by a local dealer, higher gains are possible on modified motors.

Intercooled ProCharger Systems provide the coolest charge air temperatures, largest power gains and most repeatable performance available. ProCharger's 5.7L systems and tuner kits feature the industry standard P-1SC-1 ProCharger, with self-contained oiling, billet impeller and billet gear cases standard. This kit also features highly effective and reliable air-to-air intercooling, which combines with an advantaged mounting location and best in class supercharger efficiency to minimize heat production and heat transfer, and maximize reliable power gains.

Procharger Systems for 2012-11 392/6.4L Challengers and Chargers have also been available since early Spring of 2013, six months before any other manufacturer. ProCharger was also the first manufacturer to offer complete supercharger systems for 6.1 HEMI's and 5.7 HEMI's back in 2007. With continued industry and HEMI leadership, ProCharger leads once again for the Dodge and Chrysler HEMI's.

 

ProCharger: The ULTIMATE HEMI Power Adder

With power, reliability and quality far superior to other forced-air induction systems, ProCharger Intercooled Supercharger Systems and Tuner Kits are excellent ways to add even more power to this modern HEMI powerhouse. ProCharger systems for the EFI HEMI engines feature a visually appealing "from the factory" look , easy installation, minimal relocation of components–no oil feed and return lines and avoids the unsightly complexity and maintenance issues of an air-to-water-to-air intercooler.

 

 

  


| | | | |
| --- | --- | --- | --- |
|  DESCRIPTION |   BOOST |   HP GAIN |   INTERCOOLER |
|   High Output Intercooled System with P-1SC-1 |   7 psi |   160+ HP |   3 core |
|   High Output Intercooled Tuner Kit with P-1SC-1 |   specify |   specify |   3 core |

*Higher boost levels are available for modified engines.
 

Building on our late-model, EFI HEMI® supercharging leadership, ProCharger now has complete HO systems for 5.7L HEMI R/T Challengers and Chargers, utilizing a shared drive arrangement and a new, innovative intercooler configuration.

This system utilizes the patented and proven P-1SC-1 self-contained ProCharger supercharger and large, highly-effective air-to-air intercooler. Owners can expect gains of 100+ horsepower when installed on a stock 5.7L HEMI while still running pump gas. Thanks to the industry's coolest charge air temperatures and largest power gains, unmatched power is delivered with maximum reliability and relatively simple installation.

The 5.7L HEMI R/T HO Systems is 100% complete and include fuel injectors as well as a handheld programmer.

HO Tuner Kits exclude handheld tuner and fuel injectors.