ATI 1FA300-F1 Coyote 5.0 4V HO Engine Swap
ATI 1FA300-F1 Coyote 5.0 4V HO Engine Swap
Please remember that the prices on our site are the Procharger Minimum Advertised Prices, Call 260 672-2076 
ATI 1FA300-F1 Coyote 5.0 4V High Output F-1, F-1A or F-1D Engine Swap Non Intercooled. Now with 10 rib option!!
Click on More Information link below
The Finer Details
Part Number: ATI 1FA300-F1
Manufacturer: ATI ProCharger (Accessible Technologies Inc)
---
---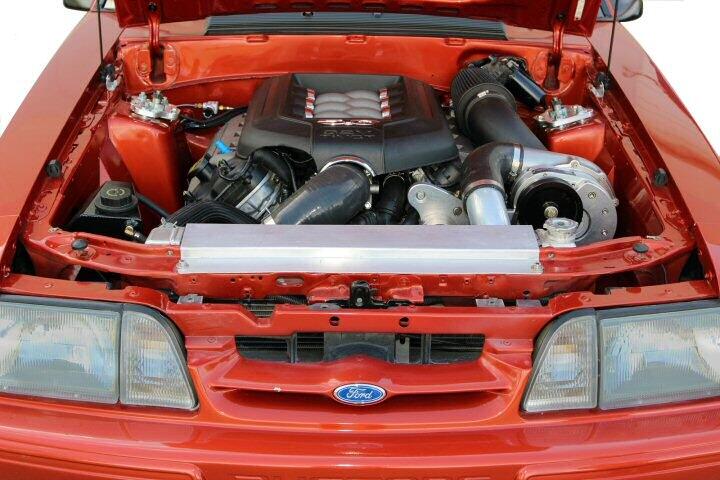 Send this to a friend
ATI 1FA300-F1 Coyote 5.0 4V HO Engine Swap
More Information

Please remember that the prices on our site are the Procharger Minimum Advertised Prices
Call 260 672-2076

ATI 1FA300-F1 Coyote 5.0 4V High Output F-1, F-1A or F-1D Engine Swap 

Non Intercooled

Now with 10 rib option!!




Installing a Coyote 5.0-Liter, DOHC engine in a late-model Mustang is currently one of the most popular engine swaps available. The merging of Coyotes and lightweight '86-'93 Mustangs induces huge grins, due to outrageous power to weight ratios that rival most modern supercars. When we installed it on our R&D vehicle, it turned the rollers at 700 wheel horsepower and 504 foot pounds of torque. These are substantial power numbers while also taking into account the vehicles' modest 2750 pound curb weight. To help customers take advantage of this opportunity, ProCharger has developed an 8-rib dedicated drive swap kit. 

Once again ProCharger expands its Fox body product lineup with a Coyote transplant bracket assembly option, providing a clean installation and mounting position that accounts for the reduced hood clearance on the Fox body Mustangs.




Mounting Options

2011-2022 Mustang Engines = Standard or Reverse
2011-2022 F-150 Engines = Standard (Reverse with timing cover swap)

Bracket Design & Belt Drive

The bracket system design is based off our rock-solid 2011+ Mustang system, though it has been adapted to fit into more compact engine bays such as the Fox Body pictured here. Even with its compact mounting location, don't be fooled into thinking it's only made for small blowers. ProChargers head units ranging in size from the P-1SC-1 to the F-1R fit on this bracket without modifications! Street cars and Race cars–we have you covered!

Two dedicated belt drive systems have been designed for this system in order to accommodate both street and track usage accordingly. For the street car, we offer an 8 rib dedicated belt drive system. The 8 rib drive system can be used with both the stock OEM balancer or an ATI Performance Products SFI damper.

Surve Valve Options

Our ProFlow surge valve comes standard with the kit, though customers with larger blowers and/or higher boost levels can be upgrade to Race Valve for an additional fee.

Intercooler Options

The standard air-to-air intercooler for this system is the "Stage 2″ unit utilized in our 2011+ Mustang GT systems, though you can also upgrade to the new massive "Race" air-to-air intercooler option. No matter which intercooler you choose, it comes with powered coated tubing, mounting hardware and couplers that should allow "bolt-on" installation on your Fox Body Mustang (system can be modified to work with other applications).  These ProCharger intercoolers are made right here in the U.S.A. and feature the largest most effective core designs.  Sizing of the cores come in at 1008 cubic inches for the Stage 2, and a MASSIVE 1296 cubic inches of cooling surface for the Race intercooler!

Coyote Engine Crank Support

The coyote engine is amazing at producing horsepower and turning big rpm numbers. However, in racing conditions with high boost, and high rpm, means a lot of stress can be placed on the front of the crankshaft (even with a turbocharged application). To help reduce the stress on the crankshaft, ProCharger has a support system that is designed to work with our supercharger systems and turbocharged applications. Is the crank support absolutely mandatory? Not really, but consider it cheap insurance with the Coyote engine, just like billet oil pump gears.