ATI 1FW612-SCI 21-23 Mach 1 & 18-20 Bullitt 5.0 Stage 11 Intercooled Sys P-1SC-1
ATI 1FW612-SCI 21-23 Mach 1 & 18-20 Bullitt 5.0 Stage 11 Intercooled Sys P-1SC-1
Please remember that the prices on our site are the Procharger Minimum Advertised Prices, Call 260 672-2076 
ATI 1FW612-SCI  21-23 Mach 1 & 18-20 Bullitt 5.0 Stage 11 Intercooled System P-1SC-1  8.5 psi - 65-70% HP Gain
Click on More Information link below
The Finer Details
Part Number: ATI 1FW612-SCI Mach1
Manufacturer: ATI ProCharger (Accessible Technologies Inc)
---
---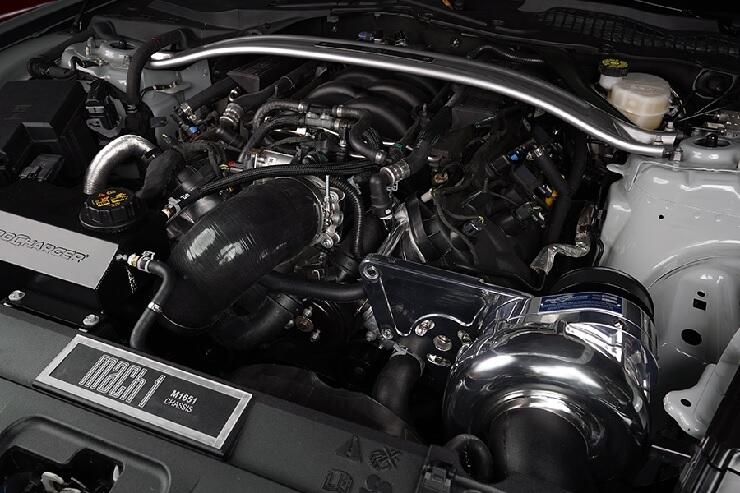 Send this to a friend
ATI 1FW612-SCI 21-23 Mach 1 & 18-20 Bullitt 5.0 Stage 11 Intercooled Sys P-1SC-1
More Information

Please remember that the prices on our site are the Procharger Minimum Advertised Prices
Call 260 672-2076

ATI 1FW612-SCI  21-23 Mach 1 & 18-20 Bullitt 5.0 Stage 11 Intercooled System P-1SC-1

8.5 psi - 65-70% HP Gain

 

The Stage 11 system runs a dedicated 8 rib drive system for the supercharger head unit.  Also included is a proven calibration that delivers OEM drivability and tire blistering performance, loaded via a handheld tuner.  This tuner also doubles as a data logging device for logging your Mustangs performance which is always a nice perk for the tech-savy. 

Stage 11 Supercharger System and Kit Details: 
- Full Systems with P-1X and P-1SC-1 
- Tuner kits with P-1X through F-1A-94 head units available*
- Dedicated 8 rib supercharger belt drive system
- Rigid plastic cold air inlet
- Handheld tuner (system only)
- 8.5psi boost level (full system) up to 20+ psi (tuner kits)
- 100% bolt on, requires NO permanent modifications to the car. 
- Easy install with common hand tools.

 These 8 & 10 rib kits only work with the standard stock front sway bar, they will not work with the larger Ford Racing 37mm sway bar, due to interference between the crank pulley and the larger sway bar. 

 

• 1,200+ HP Intercooler is standard and available in our durable black finish 

• 100% reversible, no permanent modifications, no drilling or modifying 

• Patented supercharger crank pulley that fastens to the factory balancer 

• Belts and pulleys can be changed without removing the supercharger 

• Upgradable to "Red" Race bypass valve 

• Fuel system upgrade and nGauge handheld programmer included 

* Tuner kits come without fuel system components, and without tuning.  Boost level spec'd by customer. 


 

BIGGER IS BETTER 

Our Stage II system includes a fuel system upgrade and our higher performance intercooler, over 75% larger than our HO intercooler, ensuring your air charge will be at its lowest temperature before entering the throttle body.  Our engineers have designed this system for a capable DIY'er making it easy to install while still delivering monster power numbers requiring no fabrication at all! 




 

It's still hard to believe that our Mustang supercharger systems can deliver more Hp increase than the total HP a stock Mustang GT left the factory with a decade ago. Now that is progress!

 

 The Coyote 5.0L is an incredible motor with incredible potential.  This engine utilizes Variable Valve Timing and aggressive spark calibration (with spark knock sensors), which allows this engine to constantly push itself to its potential.  Factory Hp is a rock solid 460Hp at the crank, and we build on that firm foundation with performance upgrades that go beyond a Horsepower increase of 70%+ (approaching 800 total Crank HP!). Our approach is to offer 4 power upgrade options depending on how far you want to push your new Mustang. 

  

AVAILABLE OPTIONS

 For both our Complete Systems and Tuner Kits, we offer more options than any competitor and give you the chance to customize your system or kit the way you want it.

 

Supercharger Headunits – Upgrade to our more efficient P-1X supercharger (Code -P1X) and gain 10-15 Hp at the same boost level.  Now that is a no brainer!  Or choose our race proven F-1A-94 supercharger (Code -94) for even higher performance.
Quieter Helical Gearset (Code -H) – We offer a helical gearset for our P-1SC-1, P-1X, D-1SC, and D-1X superchargers offering much quieter operation, especially for those with a quiet or OEM exhaust system
Supercharger Finish Options – Satin (Standard finish), Polished (Code -P), or Black (Code -B) for superchargers
Supercharger Bracket Finish Options – Satin (Standard finish), polish (Code -PB), or black (Code -BB) for bracket assemblies
Intercooler Upgrade – To Stage II for the HO system (Code -Race), offering 75% larger intercooler, ideal for warmer climates
Race Bypass Valve - Higher flowing bypass valve (Code -RV), Stage II systems and Tuner Kits only




 POWERTRAIN WARRANTY AVAILABLE FROM

 A supplemental powertain warranty is available from Charter Warranty for those seeking additional protection ($7,500 total protection).  

 

 NOTE: Vehicles must be less than 3 years old and 36,000 miles to be eligible for the warranty.  Click here for more details.

 

---

 

 CALIFORNIA EMISSIONS NON-COMPLIANCE INFO (CARB)

NOTE: ProCharger HO Systems, Stage II Systems, and Tuner Kits for the 2018-up Ford Mustang GT are NOT legal for street use in California. These products are intended for racing or off road applications only. California approved products for street legal use (complete systems) will have an associated CARB EO# for compliance.  Click here for a full list of California and 50 state street legal systems.