ATI 3FASS-007 Race Valve - Enclosed with Steel Flange
ATI 3FASS-007 Race Valve - Enclosed with Steel Flange
FREE SHIPPING! ATI 3FASS-007 Race Valve - Enclosed with Steel Flange Please remember that the prices on our site are the Procharger Minimum Advertised Prices Call 260 672-2076 This is set up to run a 2" hose off the race valve Enclosed Race...
The Finer Details
Part Number: ATI 3FASS-007
Manufacturer: ATI ProCharger (Accessible Technologies Inc)
---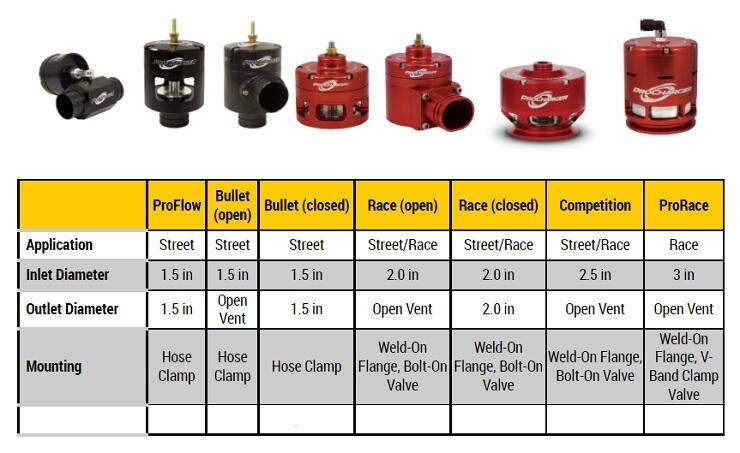 Send this to a friend
ATI 3FASS-007 Race Valve - Enclosed with Steel Flange
More Information

FREE SHIPPING!

ATI 3FASS-007 Race Valve - Enclosed with Steel Flange

Please remember that the prices on our site are the Procharger Minimum Advertised Prices
Call 260 672-2076 


This is set up to run a 2" hose off the race valve

Enclosed Race Bypass Valve with Steel Flange and Mounting Hardware. 

Assembly Includes:
- Race Bypass Valve

- Steel flange

- Short steel tube

- Hose section

- Two port fittings

- Hardware




Race Valve "ENCLOSED" with Mounting Hardware (Steel Flange and mounting flange/tube with 2" nipple)


The race bypass valve with the steel flange is for use with steel tubing, likewise the race bypass valve with the aluminum flange is for aluminum tubing.

 The open race valve vents the air directly to the atmosphere, which can make a loud noise. Depending on where the race valve is located, it can also kick up a lot of road dust. The enclosed race valve is designed to enable a hose to be clamped to it, this allows the air to either be run back into the system or dumped wherever the installer desires. Routing the hose past the firewall quiets down the release of air from the valve.

Brute Speed highly recommends the race valve when boost 14 psi and above.  This Race Valve comes with a steel flange that needs to be welded into the steel intercooler tubing.

 

WHY ARE BYPASS VALVES IMPORTANT?

For supercharging applications, surge occurs when excessive boost or pressure spikes as a result of a sudden throttle blade closing, which can cause severe damage to a supercharger and is why we mandate all ProCharger supercharger installations use a bypass valve.

 

A SIMPLE WAY TO LOOK AT OUR OFFERINGS IS BASED ON YOUR ENGINE'S HORSEPOWER OUTPUT LEVEL:

700 HP OR LESS - PROFLOW OR BULLET BYPASS VALVE IS RECOMMENDED, DEPENDING ON PREFERENCE

ProFlow Valve: The ProFlow valve is the standard surge valve option for our street supercharger systems and kits. Compact in size. It can be fitted into tight spots when space is limited. Its butterfly valve is extremely durable and reliable, and this design creates a straight airflow path which achieves excellent flow for its size. The ProFlow valve can also be paired with a small air filter to minimize noise. 

Bullet Valve: This surge valve's compact design also makes it fit easily in tight spaces. It comes in both an open and closed format. The closed format allows you to recirculate air back into the system, or instead to run to an air filter to minimize noise. 

 

701-1200 HP - RACE OPEN BYPASS VALVE IS RECOMMENDED

Race Valve: This is the industry leading surge valve for both street and race applications. The larger valve diameter is designed for high flow applications. 

 

1201-3500 HP 

 Competition Valve: Designed with the Pro Mod racer in mind; compact, light and fast acting. For use as a pair in applications above 3,000 HP.

ProRace Valve: One ProRace Valve outflows any other single valve on the market and is our highest-hp bypass valve option. This massive flow capacity comes from a piston style valve design (patent pending) that allows for  a significant increase in curtain area over traditional style valves, while still fitting into a reasonably sized package. It also incorporates a v-band clamp for an easy install.




OPEN VS. CLOSED BYPASS VALVES

Open – Vents to atmosphere and creates a distinctive "whoosh," when the throttle blade suddenly closes, which a lot of people enjoy the sound.

Closed – Vents to an external air filter or an internal tube for rerouting excess boost pressure back upstream of supercharger for a more quiet and subtle sound.  More ideal for street applications where someone wants more of a silent or stealth operation of the supercharger.

For street applications, our complete systems and tuner kits come with the proper bypass valve based on the vehicle's horsepower output level so, no need to worry about the right one. However, we do offer upgrade options for our Systems and Tuner Kits with our Race bypass valve family for those seeking a little more sound or those that like the cool look of the anodized finish of our Race bypass valves.

 

 

BYPASS VALVES ARE NOT WASTE GATE RELIEF VALVES

Contrary to most perceptions a bypass valve is designed to relieve boost/pressure when the throttle blade is closed.  Conditions such as idle, during shifts, and backing off throttle during tire slip conditions are very important to have a bypass valve.  A bypass valve utilizes a vacuum line port behind the throttle blade and vents when detecting an immediate change in pressure. Bypass valves are different from a wastegate relief valve, which operates as a pressure relief valve and opens or vents excess pressure when a certain pressure is achieved.

 

WOULD YOU EVER WANT TO INSTALL A WASTE GATE RELIEF VALVE WITH A PROCHARGER SUPERCHARGER?

The correct answer is no. Our superchargers are designed to provide maximum boost and efficiency at the maximum engine rpm and by adding a wastegate relief valve to vent that boost is defeating the whole purpose of having an efficient ProCharger supercharger.  Proper supercharger pulley size and knowing how much boost your engine can handle at its rated max rpm are the keys to success with a proper ProCharger setup.