ATI 4CD-SBF-3 Ford Small Block F-3 CrankDrive
ATI 4CD-SBF-3 Ford Small Block F-3 CrankDrive
The award winning CrankDriveTM gear drive is capable of 3,000+ horsepower, and allows for a variety of accessories, easy change of gear ratios, maximum efficiency and extreme power levels. Compatible with race superchargers from F-1 to F-4, the CrankDrive is available for most drag racing engine applications. 
 You can change gears with the unit still mounted on the engine. That saves quite a bit of time, and can actually be done between rounds, if necessary.
 ProCharger has added an accessory drive and a method to turn the engine over, externally. The accessory drive on the side of the unit allows you to mount a fuel pump, vacuum pump, oil pump, or even a magneto on the unit. There's also a provision on the backside of the gear drive unit to turn the engine over for valvetrain maintenance or any other engine maintenance that needs to be done.
Click on More Information link below
The Finer Details
Part Number: ATI 4CD-SBF-3
Manufacturer: ATI ProCharger (Accessible Technologies Inc)
---
---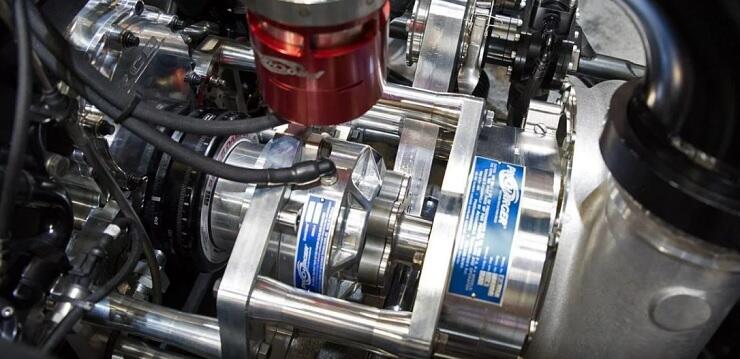 Send this to a friend
ATI 4CD-SBF-3 Ford Small Block F-3 CrankDrive
More Information

ATI 4CD-SBF-3   Ford Small Block F-3 CrankDrive

Call for a lower price - 260 672-2076   FREE SHIPPING!

Note: Head unit is not included


The award winning CrankDriveTM gear drive is capable of 3,000+ horsepower, and allows for a variety of accessories, easy change of gear ratios, maximum efficiency and extreme power levels. Compatible with race superchargers from F-1 to F-4, the CrankDrive is available for most drag racing engine applications. 

 You can change gears with the unit still mounted on the engine. That saves quite a bit of time, and can actually be done between rounds, if necessary.

 ProCharger has added an accessory drive and a method to turn the engine over, externally. The accessory drive on the side of the unit allows you to mount a fuel pump, vacuum pump, oil pump, or even a magneto on the unit. There's also a provision on the backside of the gear drive unit to turn the engine over for valvetrain maintenance or any other engine maintenance that needs to be done.

KEY FEATURES

  The ProCharger CrankDriveTM positions the supercharger higher than other gear drives to allow for better steering component and frame clearance 

  Lightweight design 

  Easy to assemble, disassemble, and swap gear ratios 

  Complete assembly for specific engines, no sourcing additional components 

  Optional alternator drive 

  Optional fuel pump drive 

  Allows engine to rotate both directions for servicing 

 

Shown is the  accessory drive which provides mechanical power for engine-driven accessories such as fuel pumps, oil pumps, and magnetos.




 




 Images - ProLine's Pro Mod Race Car and ProCharger CrankDriveTM product with F-3X-140 supercharger

---

 For those racers and extreme HP street car owners looking for a gear drive to easily mount your ProCharger supercharger directly to the crank, we have the solution for you.  The ProCharger CrankDriveTM is made in Kansas City out of high strength T6061 billet aluminum and is engineered to bolt right up to most popular engine blocks (see list below).  We now offer a complete solution for those racers who want a simple and easy installation so they can focus on getting their race car ready for the track. Key benefits include:

Supports all F3 Series Superchargers (F-1X-12, F-3D, F-3R & F-3X models)
Capable of supporting 3,500+ horsepower, this baby can handle the power!
Positions the supercharger higher than other gear drives to allow for better steering component and frame clearance
Lightweight and durable design (see exploded view below)
Easy to assemble, disassemble, and swap gear ratios for different tracks or tuning
Complete assembly for specific engines, no sourcing additional components
Allows engine to rotate both directions for servicing
Made in USA

The dual accessory is for a v-band style fuel pump and/or vacuum/oil pump on the driver's side. The alternator is separate on the passenger side.  


  

RACEDRIVE VS. CRANKDRIVE, WHICH ONE SHOULD I CHOOSE?

RaceDrive (Integrated gear drive and supercharger combo) is ideal for someone space constrained in front of the crankshaft and is running a bracket style class such as Top Dragster or Top Sportsman, where absolute power is not essential to winning. Click here to learn more about RaceDrive.

CrankDrive (External gear drive) is ideal for most applications where space is less of a constraint.  The CrankDrive is completely separate from the ProCharger supercharger head unit, allowing any ProCharger F-series supercharger to be used interchangeably.  The CrankDrive will support any horsepower range and works with a wide variety of race engines.

Recommendation: First, start with the class you are competing (see chart below), pick your supercharger, and then choose gear drive or cog belt drive based on that supercharger type.  It's pretty simple or give us a call to help you figure it out.

RACE WINNING SUPERCHARGER RECOMMENDATIONS