ATI DC002A-008 - SBF 8 Rib 7.65" Crank Pulley - For 3 & 4 Bolt
ATI DC002A-008 - SBF 8 Rib 7.65" Crank Pulley - For 3 & 4 Bolt
ATI DC002A-008 - 86-93 Mustang 5.0 8 Rib 7.65" Crank Pulley  Fits 3 AND 4 Bolt Cranks
Click on More Information link below
The Finer Details
Part Number: ATI DC002A-008
Manufacturer: ATI ProCharger (Accessible Technologies Inc)
---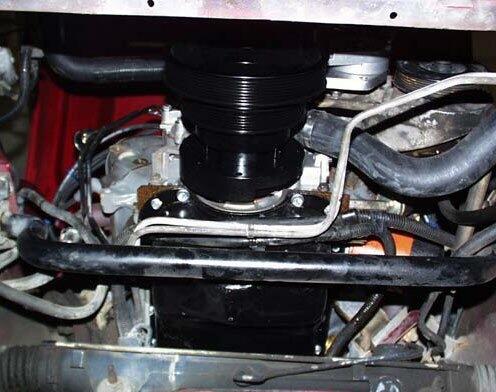 Send this to a friend
ATI DC002A-008 - SBF 8 Rib 7.65" Crank Pulley - For 3 & 4 Bolt
More Information

ATI DC002A-008 - 86-93 Mustang 5.0 8 Rib 7.65" Crank Pulley

Fits 3 AND 4 Bolt Cranks

 

Remove the factory crankshaft pulley
by removing the four 3/8" bolts that
attach the pulley to the factory harmonic
balancer.

If the vehicle is currently using the
factory harmonic balancer, replace it
at this time with a suitable aftermarket
steel balancer. Factory harmonic
balancers may separate and come
apart in supercharged applications,
possibly causing damage to the engine
and engine accessories. Aftermarket
steel harmonic balancers are available
from a variety of suppliers. To remove
the factory harmonic balancer, follow
the instructions in your Ford factory
service manual. Install the aftermarket
harmonic balancer per the manufacturers
instructions. The torque specification for
the harmonic balancer center bolt is 115-
130 ft/lbs.


 

Install the supplied billet aluminum crank
pulley to the aftermarket harmonic
balancer face using the four supplied
3/8"-16 x 1-1/2" hex bolts and lock
washers, making sure the balancer face
has been cleaned using a wire brush and
solvent beforehand to allow for a flush
fit. Torque the crank pulley bolts to 35 ft/
lbs.




Verify that the pulley is sitting flush and
true to the harmonic balancer and reinstall
the factory serpentine accessory
drive belt in the same manner as it was
removed.