ATI Performance Products 918047 for 11-Up Ford 5.0L Coyote
ATI Performance Products 918047 for 11-Up Ford 5.0L Coyote
Click on More Information link below
The Finer Details
Manufacturer: ATI Performance Products
---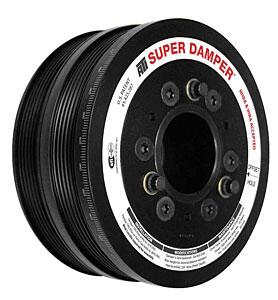 Send this to a friend
ATI Performance Products 918047 for 11-Up Ford 5.0L Coyote
More Information

ATI Super Damper SFI Stock Replacement 6 Rib (2011-2017) 918047

ATI super damper SFI stock replacement 6 rib (2011-2017) 918047

ATI Super Damper harmonic balancers are patented and feature grooves for serpentine belts machined into the outer damper shell. The dampers come standard with 6 outer grooves for standard OEM drive systems, but 8 and 10 grooves are available for supercharger or turbo applications. Serpentine dampers are available in a variety of diameters and crank hubs may be fitted with a 6-groove serpentine pulley to drive external oil pumps or vehicle accessories. The Serpentine Series Super Dampers fit all ATI GM-front crank hubs and can be adapted to many engine combinations providing maximum flexibility. They are available in steel or lightweight, hardcoated aluminum. 

Features and benefits:

* Eliminates torsional crankshaft vibrations
* Exceeds SFI 18.1 specs
* Black zinc chromate finished
* Tunable, rebuildable, and extremely efficient at all rpms
* Laser engraved 360 degree timing marks

Engine Balance: Internal
Safety Rating: SFI 18.1
Degree Markings: Yes
Degree Marking Range: 360
Outside Diameter (in): 6.780 in.
Harmonic Balancer Material: Aluminum
Harmonic Balancer Construction: Elastomer
Harmonic Balancer Finish: Black zinc chromate
Mounting Hardware Included: No
Notes: NHRA approved for new Super Cobra Jet in Stock Eliminator.Includes 6-groove serpentine pulley, 4.5 lbs. total weight.