Autometer 17212 03-09 Dodge Ram (also for 2002 1500) Dual Pillar
Autometer 17212 03-09 Dodge Ram (also for 2002 1500) Dual Pillar
Autometer 17212 03-09 Dodge Ram (also for 2002 1500) Dual Pillar
Click on More Information link below
The Finer Details
Part Number: Autometer 17212
---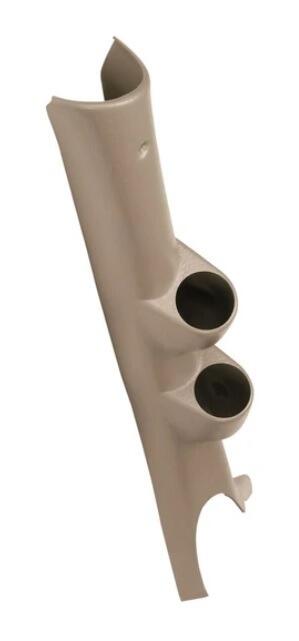 Send this to a friend
Autometer 17212 03-09 Dodge Ram (also for 2002 1500) Dual Pillar
More Information

Autometer 17212 03-09 Dodge Ram (also for 2002 1500) Dual Pillar - Tan

Gauge Size (in):2 1/16 in. diameter

Pod Style:Two gauge

Pillar Coverage:Full

AutoMeter pillar gauge pods are the perfect solution for mounting your new AutoMeter instruments. They're easy to install and mount securely to your windshield A-pillar. Each pod is custom-designed to fit your vehicle's make and model year precisely. Choose the style you need to accommodate from one to four gauges. AutoMeter's durable ABS plastic pods are available in various colors and gauge diameters, and can be painted to match your stock interior, if desired.

Made with high quality, durable material, AutoMeter gauge pods are the perfect fit for your gauge mounting needs. Our pods seamlessly integrate gauges into your vehicle with effortless installation and optimized positioning. Pods can be painted to match any interior and add a professional look!


 

Clean OEM-like fit & finish - Gauges do not obstruct the driver's view of the road and are positioned at optimum viewing angles for at-a-glance readings
For use with 2-1/16" AutoMeter gauges
Paint-To-Match
Includes required mounting hardware

 

Feature Points

Optimally positions key performance data within driver's field of vision
Professional fit and finish, this mounting solution attaches to the factory pillar effortlessly by utilizing the included mounting hardware
Tan textured finish which can be painted to match your interior if desired
High quality, composite construction is incredibly durable and looks great
Seamlessly integrate AutoMeter 2-1/16" gauges into your interior

Brute Speed has one in stock at this super low price. It is brand new and in the box.