BMR TA006 Torque Arm, GM 10-bolt Differential, (1970-1973)
BMR TA006 Torque Arm, GM 10-bolt Differential, (1970-1973)
BMR TA006 Torque Arm, GM 10-bolt Differential
The Finer Details
Manufacturer: BMR Suspension
---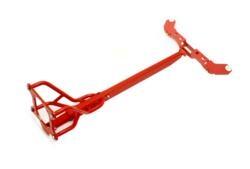 Send this to a friend
BMR TA006 Torque Arm, GM 10-bolt Differential, (1970-1973)
More Information

BMR TA006 Torque Arm, GM 10-bolt Differential, (1970-1973)

Unlike traction bars that can create suspension bind, noise, and bad ride quality the BMR torque arm enhances traction without all the drawbacks.

Working independent of the leaf springs, the torque arm has the ability to aid traction while allowing the spring to perform it's natural function of supporting the vehicle. This is not possible with traditional traction bars since loading the suspension essentially turns the front portion of the leaf spring into a solid link, limiting the springs intended function. With the torque arm installed, the "spring wrap" is eliminated by the torque arm, pinion rise is controlled and the spring remains uneffected under loaded conditions. Additionally, by being centrally located, the torque arm allows the rear end to fully articulate bind-free over road transitions and bumps. As a result, ride quality remains uneffected. These features allow the torque arm to be equally at home on the street, drag strip, or road course.

The BMR Torque Arm is a true bolt-on, bolting in between the differential cover and the housing. It has pinion adjustability for setting driveline angle preload and a telescoping, Delrin-bushed front slider that is mounted with a high-durometer polyurethane bushing. The torque arm crossmember mounts to the rear body mount area of the frame and is supported by Delrin Body Mounts, included with your BMR Torque Arm.

Application
1970 - 1973 Chevrolet Camaro
1970 - 1973 Pontiac Firebird
Manufactured By
BMR Suspension | USA Made
Available Colors

Black Hammertone

| | |
| --- | --- |
| | |

FREE SHIPPING!!!!