FIC IS408-1650H 1650cc 160 lbs/hr Ford Raptor (2010-2014)
FIC IS408-1650H 1650cc 160 lbs/hr Ford Raptor (2010-2014)
FIC IS408-1650H  1650cc 160 lbs/hr Ford Raptor (2010-2014)
The Finer Details
Part Number: FIC IS408-1650H
Manufacturer: FIC - Fuel Injector Clinic
---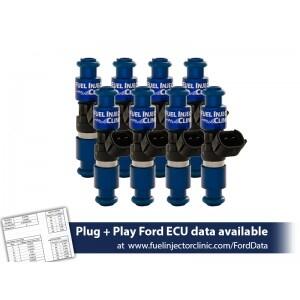 Send this to a friend
FIC IS408-1650H 1650cc 160 lbs/hr Ford Raptor (2010-2014)
More Information

FIC IS408-1650H  1650cc 160 lbs/hr Ford Raptor (2010-2014)

1650cc (160 lbs/hr at 43.5 PSI fuel pressure) FIC Fuel Injector Clinic Injector Set for Ford Raptor (2010-2014) Injector Sets

Ford Raptor (2010-2014) Injector Set: 8 x 1650cc Saturated / High Impedance Ball & Seat Injectors. These injectors utilize the latest technology and provide great linearity and short pulse width repeatability. Includes PGTJETR8 or add Plug &Play adaptors PADPJtoU8.
Plug and Play Ford ECU Data Available at http://fuelinjectorclinic.com/FordData

This injector set contains high impedance injectors matched to the saturated injector signal generated by this vehicle's OEM ECU, OR is suitable for use with an aftermarket ECU made or set up for high impedance injectors.

This set of injectors requires you to change the injector plug on the wiring harness in your car. This can be done by soldering in the pigtails (included with purchase) to replace the plugs currently on your harness, or you can choose to purchase the optional plug-n-play adaptors which will convert from the type of plugs on these injectors to the plugs on your harness without any need for cutting or soldering.

This plug conversion is made necessary because FIC always chooses to provide brand new, unused injectors for its performance applications. We do not believe that increasing the chance of a failure due to using remanufactured or core program based injectors is ever warranted.

HP Rating

 

| | |
| --- | --- |
| Cylinder Quantity | 8 |
| Impedance | High-Z |
| WHP on Gas at 43.5psi 90%DC Turbo | 1505.71 |
| WHP on Gas at 58psi 90%DC Turbo | 1739.10 |
| WHP on E85 at 43.5psi 90%DC Turbo | 1158.24 |
| WHP on E85 at 58psi 90%DC Turbo | 1337.77 |
| WHP on Gas at 43.5psi 90%DC NA | 1806.86 |
| WHP on Gas at 58psi 90%DC NA | 2086.92 |
| WHP on E85 at 43.5psi 90%DC NA | 1389.89 |
| Fuel Pressure (psi) | 43.5 |
| Engine aspiration | naturally aspirated |

 

 

The world's fastest performance cars rely on Fuel Injector Clinic (FIC) products. Because we specialize in high performance fuel injectors for import and domestic applications, there's more to our injectors than what you may know, such as...

 

 

 

• All Fuel Injector Clinic injector sets are precisely matched using Fuel Injector Clinic's proprietary Data Match Technology. It is a very comprehensive information sheet, which customers receive with our injector sets. It provides the most complete flow matching and latency value information available in the industry, featuring dynamic slope flow rates and individual latency deviation values.

 

 

 

• Fuel Injector Clinic offers state of the art R&D generating GM and Ford data for software like HP Tuners, SCT and Diablosport. Just click on the links to get the full data. 

 

 

 

• We've got top rated customer service. Yes, we know, this is subjective. So if you're a skeptic, google "Fuel Injector Clinic Customer Service" and see what folks are saying about our service. It's second to none. We do our best to ship fast, promptly pick up the phone when you call (M-F, 8ish to 6ish, ET), quickly answer your emails, and offer honest, transparant information about all of our products and services. Plus, satisfaction is guaranteed on all Fuel Injector Clinic performance injectors.

 

 

 

• We have one of the largest selection of performance injectors available in the aftermarket industry. All makes. All models. Check out our website. And if you can't find it on the site, call us. We'll do our best to make what you need for your high performance car.

 

 

 

• We are leaders in injector innovation— first with the 900cc, 1100cc and 1650cc high performance injectors. And we're always working on what's next!

 

 

 

We're a trusted brand worldwide, with a great team of dealers who offer our products. We stand behind our products and services, and our number one goal is Happy Customers.

 




 

Fuel Injector Clinic Lifetime Limited Warranty Policy

 

Fuel Injector Clinic ("FIC") warrants its injector under this lifetime limited warranty policy("Warranty"). This Warranty applies to the original purchaser of FIC injector sets, purchased from an authorized dealer, with original sales receipt. This Warranty is non-transferrable.

 

Pursuant to the terms of this Warranty, after submission of a valid claim by a purchaser, if FIC determines that aninjector is not manufactured to FIC's specifications, FIC will, at its discretion, replace the faulty injector with either a new or refurbished product that has been confirmed to meet FIC's specifications. This Warranty covers defects in manufacturing. This Warranty does not cover outside factors like dirt or corrosion building up inside the injectors, which can usually be corrected with a normal cleaning service.

 

To submit a Warranty claim, please use the Contact form on our website with a clear description of your issue and someone will contact you for more information.

 

Fuel Injector Clinic strongly recommends that all FIC products are installed by a trained professional. All aftermarket injectors require tuning immediately after installation to offer safe and beneficial results. This Warranty does not apply and Fuel Injector Clinic fully disclaims any responsibility or liability for any damages, including damages to FIC products, damages to vehicle, or injury to persons, related to the improper installation, use, or operation of FIC products.

 

No claim by the purchaser of any kind, including claims for indemnification, shall be greater in the amount than the purchase price of the Fuel Injector Clinic product in respect to which damages are claimed.